Thirty years of innovation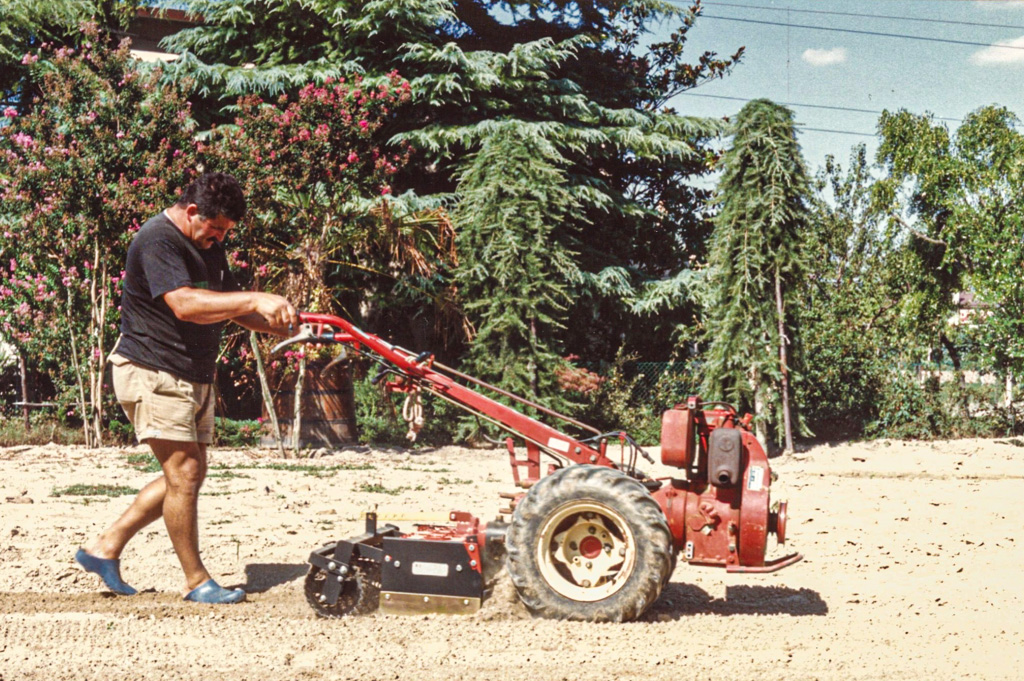 1993 – Alberto Rinaldi founded Rinaldi Srl, together with his sons Roberto and Davide.
At first, the garden machines were designed and manufactured in a workshop of just twenty square metres. The company's philosophy and policy have always been based on a careful selection of suppliers who can manufacture everything needed to build the machines. The company participated for the first time in Miflor and Flormart trade shows.
1997 – The space available to the company was too small for production: markets were growing and larger premises were needed, with more space to house the administrative and design offices, assembly operations, machinery, the warehouse and shipping department. The company moved to Toscanella di Dozza, in the province of Imola.
R2 started to exhibit at EIMA International – International Agricultural and Gardening Machinery Exhibition, which is held in Bologna every two years, and as a result established contacts with foreign companies and expanded its target market.
2003 – Sales went up and the company started to sell in non-European markets too. R2 purchased an even larger property, near Castel San Pietro Terme, just a few kilometres from Bologna, where it moved its headquarters, the manufacturing and shipping departments, while keeping the building in Toscanella, which was later converted into a warehouse.
The Rinaldi family is now committed to managing and fostering the growth of the company, consolidating its markets and periodically launching new products and models.
2023 – The Rinaldi family is now in its third generation. R2 is an established player in the agricultural and garden machinery market.
1993 – Alberto Rinaldi fonda la Rinaldi Srl, insieme ai figli Roberto e Davide.
L'attività di progettazione e costruzione di macchine di giardinaggio ha inizio in un laboratorio di soli venti metri quadri. La filosofia e la politica aziendale si concentrano sulla attenta selezione dei fornitori esterni capaci di produrre tutto il necessario per la realizzazione delle macchine. Iniziano le partecipazioni alle prime fiere Miflor e Flormart.
1997 – Lo spazio a disposizione dell'azienda ormai non è più sufficiente: la produzione i mercati stanno crescendo e diventa necessario dotarsi di locali più ampi, con spazi più adeguati per ospitare gli uffici amministrativi e di progettazione, i locali adibiti all'assemblaggio, i macchinari,  il magazzino e il reparto spedizioni. L'azienda si trasferisce a Toscanella di Dozza, in provincia di Imola.
Principalmente attraverso la presenza ad EIMA International – Esposizione Internazionale di Macchine per l'Agricoltura e il Giardinaggio, che si svolge a Bologna ogni due anni, R2 comincia ad avere interessanti contatti con l'estero, riuscendo così ad ampliare il proprio mercato di riferimento.
2003 – Grazie al trend di vendite e all'apertura di mercati extra europei, R2 acquista un immobile ancora più ampio, in prossimità di Castel San Pietro Terme, a pochi chilometri da Bologna, dove trasferisce la sede, la sezione produttiva e quella dedicata alle spedizioni, mantenendo anche lo stabile di Toscanella, ora completamente convertito in magazzino.
L'intera famiglia RInaldi è ora dedicata alla gestione e alla crescita dell'azienda, riuscendo a consolidare i propri mercati e a proporre periodicamente nuovi prodotti e modelli.
2023 – Lo staff della famiglia Rinaldi è ora alla terza generazione. R2 è ormai una realtà consolidata sul mercato delle macchine per l'agricoltura e il giardinaggio.